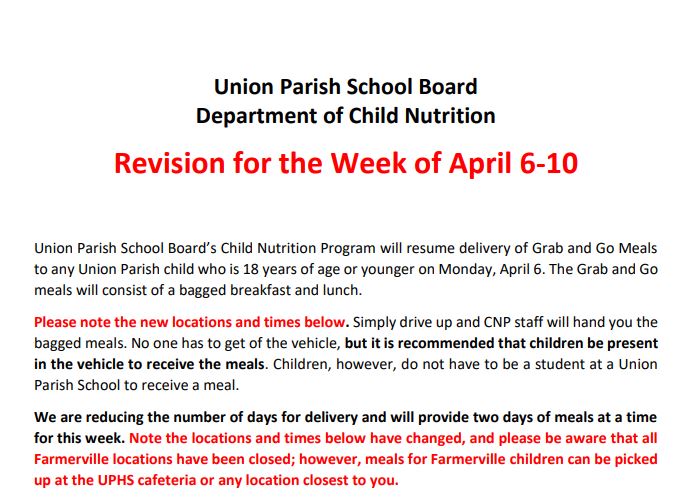 Union Parish School Board
Department of Child Nutrition
Revision for the Week of April 6-10
Union Parish School Board's Child Nutrition Program will resume delivery of Grab and Go Meals to any Union Parish child who is 18 years of age or younger on Monday, April 6. The Grab and Go meals will consist of a bagged breakfast and lunch.
Please note the new locations and times below. Simply drive up and CNP staff will hand you the bagged meals. No one has to get of the vehicle, but it is recommended that children be present in the vehicle to receive the meals. Children, however, do not have to be a student at a Union Parish School to receive a meal.
We are reducing the number of days for delivery and will provide two days of meals at a time for this week. Note the locations and times below have changed, and please be aware that all Farmerville locations have been closed; however, meals for Farmerville children can be picked up at the UPHS cafeteria or any location closest to you.
Beginning next week (April 13) we are partnering with a food service company who will begin delivering meals to each student's address. To participate in this program, you will need to complete an application and return it by Friday, April 10. The applications will be available at the feeding sites next week and may be returned to those sites. In addition, the applications will beposted online at www.unionpsd.org and on Facebook. Students must have an application turned in to continue receiving meals.
9560 Highway 33
Farmerville, LA 71241
Copyright © 2023 D'Arbonne Woods Charter School
No person shall, on the basis of race, color, religion, gender, age, marital status, disability, political or religious beliefs, national or ethnic origin, or sexual orientation be excluded from participation in, be denied the benefits of, or be subjected to discrimination under any education program or activity, or in any employment conditions or practices conducted by this School, except as provided by law.