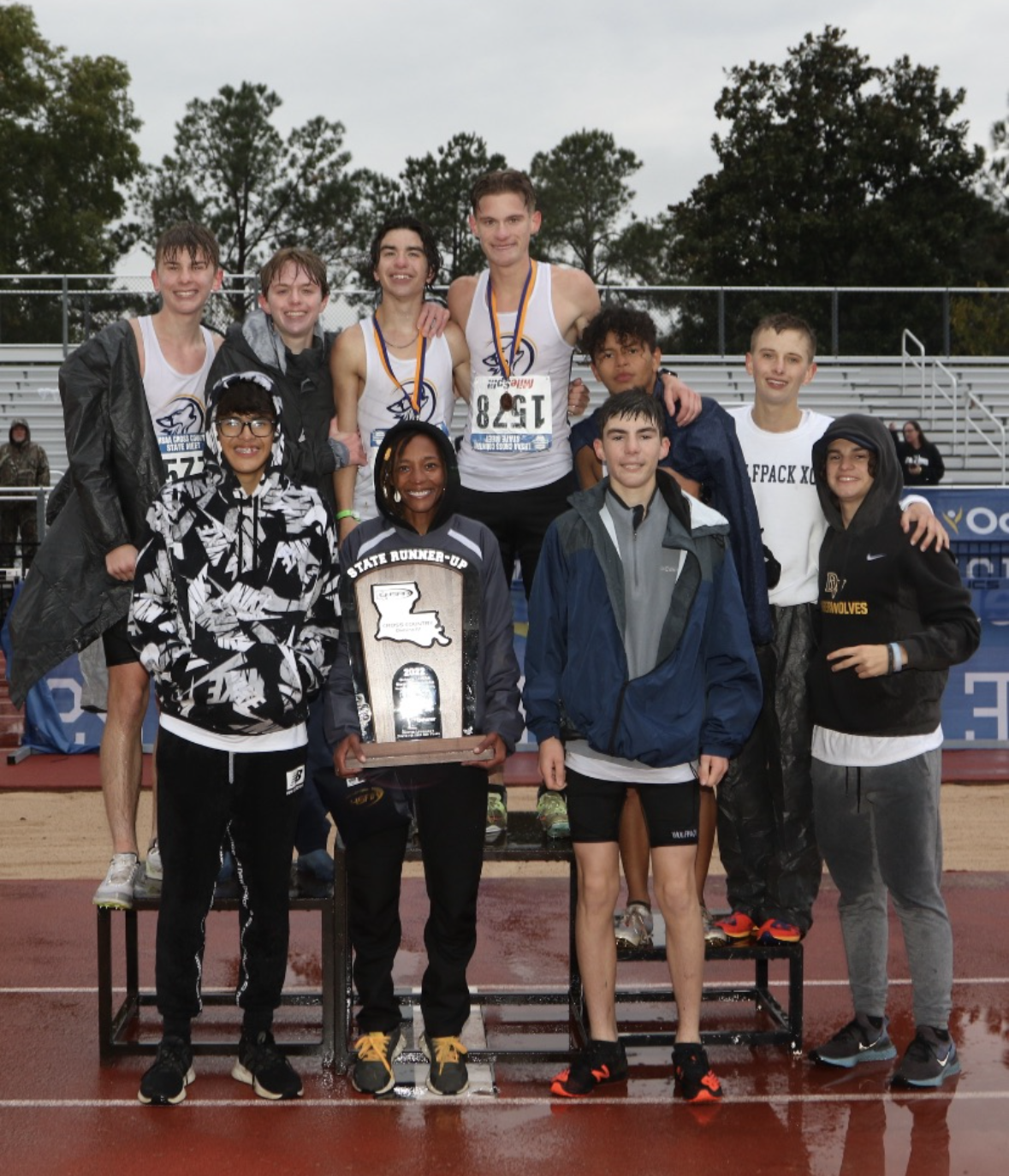 Boys Varsity XC Team 2nd place State Runner up 2022
4th place Trent Futch 17:00
7th place Eric Ramsey 17:06
21st place Rocky Velasquez 17:48
31st place Axton Nolan 18:15.20
60th place Ethan Parrott 19:12
61st place David Post 19:14
69th place Micah Allen 19:38 out of 165 athletes
Kadie Norsworthy – I've run cross country for 2 years. While I enjoy running, I fell in love with the sport purely because of the relationships I've built with my teammates and coaches. So, I highly recommend joining the #WolfPack XC family and get some really good free food!
Jennyfer Gomez – I've been running cross country for 4 years. It's a great sport to be a part of, and my teammates and coach make the experience even better. Yes, it can be tough but it is definitely worth it!
Cris "Rocky" Velasquez – I am a senior runner for Darbonnewoods Charter School. I have placed third at the state meet twice, 2020 and 2021. My all time PR is 16:34 for a 5K. I currently have a 3.82 GPA , I am a part of the Beta club, National honor society, and honor roll. I am interested in studying physical therapy or kinesiology in college. When I first started running I hated it and was considered slow, but with my drive to be the best athlete I could be and a devoted coach I was bound for success. Running became a part of me and something I look forward to every day. I earned the nickname "Rocky" for punching the air with my fist on the first day of practice freshman year.
Trent Futch – Been a part of DWCS cross country since 6th grade. I became a part of the WolfPack family my freshman year. Working hard and giving every run/workout a 100% is what led to my 17:27 PR for a 5K. I like running because it's soothing. Come run for DWCS and become a part of the #WolfPack.
Boys:
Cris "Rocky" Valesquez (SR)
Trent Futch (SR)
Eric Ramsey (JR)
David Post (JR)
Daniel Miller (JR)
Axton Nolan (SO)
Micah Allen (SO)
Ethan Parrot (FR)
Cristian Mosqueda (FR)
Girls:
Kadie Norsworthy (SR)
Jennyfer Gomez (SR)
Lauren Auger (JR)
Juliana Guzman (FR)
Riley Stewart (FR)
Head Coach: Redd Jenkins
Assistant Coach: Ron Jenkins
9/10- Border Dash
9/17- LCA Knights
10/8- Benton High Tiger Tracks
10/15- Mississippi College
10/27- North La Championships
11/5- Regionals
11/14- State
Coming from Ruston High School where I completed 4 years of cross country and Track running. I was a part of the 1st girls team to win a cross country and track championship for Ruston High School. With 2 indoor mile championships and 2 4×8 championships under my belt and countless wins my love for running grew even more.
I continued to push myself and went on to earn a full track and field scholarship to Northwestern State University. Snagging Freshman of the year in college at the Southland Conference Championships, I completed 3 years of collegiate running for Northwestern before my injury ended my career my senior year.
I graduated from Northwestern in 2011 earning a bachelors in Psychology and a minor in Sociology. I furthered my education at the University of Phoenix where I earned my master in education K-6th grade.
I was welcomed to the "Woods" in January 2019 by Mr. Murry and Coach Sparks. They instantly pulled me in once cross country was spoken. I am completing my 3rd year as head cross country and track coach. We have come a VERY long way and I couldn't be prouder of the "WolfPack" we have built and created.
I am married to Coach Ron Jenkins who is also the assistant coach of cross country, varsity girls basketball and head coach of Jr high girls basketball. We have two children together. Aaiden (10) and Mila (8).
Ron Jenkins
Assistant Coach
Coach Jenkins completed his fifth year at D'Arbonne Woods. In 2019, Coach Jenkins served as the Head Coach of the Junior High Baseball Team. Coach Jenkins brings infield expertise, grit, and an incredibly positive attitude to the program.
Coach Jenkins is a native of Ruston, LA and a graduate of Ruston High School (2008). After high school, Coach Jenkins continued his baseball career at Bossier Parish Community College and Grambling State University, before he earned his degree in Social Science from Northwestern State University (2012).
Coach Jenkins is a 2nd-5th Grade Special Education teacher, and he also serves as an assistant coach for Cross Country and Junior High Basketball. He is married to Redd Jenkins, who is a physical education teacher and Track/Cross Country coach at D'Arbonne Woods. They have two children, Aaiden and Mila.
9560 Highway 33
Farmerville, LA 71241
Copyright © 2023 D'Arbonne Woods Charter School
No person shall, on the basis of race, color, religion, gender, age, marital status, disability, political or religious beliefs, national or ethnic origin, or sexual orientation be excluded from participation in, be denied the benefits of, or be subjected to discrimination under any education program or activity, or in any employment conditions or practices conducted by this School, except as provided by law.