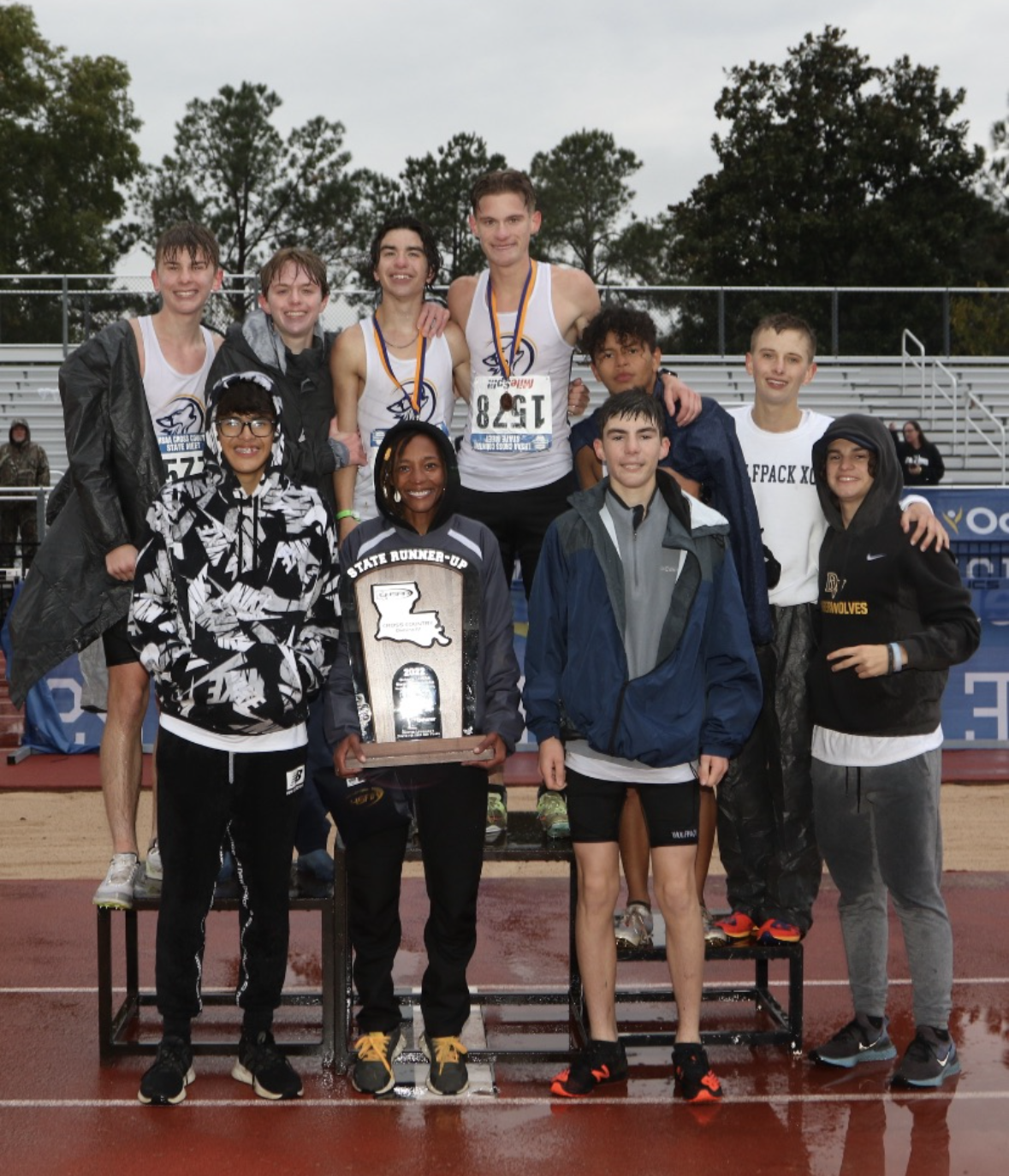 Boys Varsity XC Team 2nd place State Runner up 2022
4th place Trent Futch 17:00
7th place Eric Ramsey 17:06
21st place Rocky Velasquez 17:48
31st place Axton Nolan 18:15.20
60th place Ethan Parrott 19:12
61st place David Post 19:14
69th place Micah Allen 19:38 out of 165 athletes
Lauren Auger – My freshman year I was placed in 6th hour athletic PE and in order to stay in the class, you had to do a sport. I wasn't a very athletic person so doing a sport was not in my cards but also didn't want a schedule change so my first thought was track. Signed up thinking, this can't be that bad, I mean it's just running…. IT WAS SO PAINFUL! Coach Redd saw potential in me and quickly started setting goals for me as an athlete; I struggled so much. I thought about giving up multiple times but something kept pulling me back to the team and back to practice. At first I felt like I only showed up for the environment that Coach Redd built around the sport, pasta parties, gifts, and team bonding etc. because I still dreaded every workout. But something changed my sophomore year when I was allowed to actually compete. That day I made it up in my mind I was going to actually dedicate myself to the cross country team. This was a big deal for me as dedication and commitment was something I struggled with. After competing in my first meet I realized how much the team and the sport meant to me and how it was changing me for the better. I low-key started to get very serious with my training which led to positive behaviors in other things in my life. Running truly gave me a purpose and a passion I didn't even know I had. By my junior year, my running family became a huge part of my life. I worked extra hard not only on the course but in school because I had a team and a coach who I didn't want to disappoint. People may think I'm crazy but I literally looked forward to cross country practice. It became the best part of my day. I could take my anger, stress or any frustration out on my run or anything that was dragging me down that day and as Coach Redd would say "leave it all out on the course." Cross Country gave me friends, endurance, and confidence. It made me start to look at my life in a positive way and realize how strong I truly am. Even though the workouts are still tough and we have to wake up super early, I wouldn't want to be a part of any sport. I highly encourage anyone to join the XC team. It takes heart, but it's so worth it!!
Wendy Mosqueda – This is my first year running cross country. One of my favorite things about running is the state of peace it gives me. It's not always easy, but this team has the best coaches and teammates that always help one push through. Joining this team has given me memories and friendships I'll treasure forever. This team and sport has given me the motivation to never give up, even when things get tough. That being said, join the #Wolfpack team to make some of the greatest memories and bonds you'll ever have!
Eric Ramsey – I've run for 4 years, working on 5 and I've loved every minute of it. Running has kept me in the best shape of my life and shaped a better path for my future. You'll never regret running or working out, you'll only regret not doing it.
David Post – I've run 3 years. I continue to run because I'm super fast, really awesome, and extremely hot. The best part about XC is the coach and the people I get to run with.
Daniel Miller – I started cross country in the 5th grade while attending OCS. I did it every year until my freshman year here at DW. My sophomore year I tried to give it another try but didn't quite finish the season out. My junior year is when I made the full commitment to join the team and stick with it. It was very tough. I wanted to join the team because it was something I've always done the sport, I wanted to stay in shape, and my mom pushed me to keep running and to keep at it. The feeling I had when I joined the XC team at Darbonnewoods was a completely different feeling than I ever could have imagined. It was more of a family feeling which led to stronger bonds with the whole team. Coach Redd really stood out to me more than any of my other coaches I had in the previous years. She really pushed us hard and cared for each of us as one of her own. Coach Redd is really big on commitment because she is also just as dedicated to us and we are to her. She makes everyone earn their spot and pushes you to improve yourself each day. There are NO excuses when it comes to Coach Redd. (I think I learned this the most out of anyone). Pasta Party's are one of my favorite things that Coach Redd does for our team along with our team gifts we receive before each meet. I can't say the work is easy because the workouts are hard when we do them but, when I finish, there is always something pulling me back. Rather it's my teammates, coach Redd, or even my mom. To know we are all going through the same pain yet still find the strength to encourage each other is a bond you can't get anywhere else.
Boys:
Eric Ramsey- SR
David Post- SR
Daniel Miller-SR
Micah Allen-JR
Axton Nolan- JR
Aiden Smith- JR
Kinnith Johnston- JR
Ethan Parrott- SO
Jake Albritton- SO
Austin Mills- FR
Girls:
Lauren Auger -SR
Wendy Mosqueda- SR
Sofia Hernandez- JR
Patricia Valenzuela-SO
Juliana Guzman-SO
Riley Stewart- SO
Aubrey Powell- 8th
Head Coach: Redd Jenkins
Assistant Coach: Ron Jenkins
9/16- LCA Knights
9/23- Cedar Creek
10/14- Mississippi College
10/21- Anthill Challenge
10/26- North La Championship
11/#- Regionals
11/14- State Meet
Coming from Ruston High School where I completed 4 years of cross country and Track running. I was a part of the 1st girls team to win a cross country and track championship for Ruston High School. With 2 indoor mile championships and 2 4×8 championships under my belt and countless wins my love for running grew even more.
I continued to push myself and went on to earn a full track and field scholarship to Northwestern State University. Snagging Freshman of the year in college at the Southland Conference Championships, I completed 3 years of collegiate running for Northwestern before my injury ended my career my senior year.
I graduated from Northwestern in 2011 earning a bachelors in Psychology and a minor in Sociology. I furthered my education at the University of Phoenix where I earned my master in education K-6th grade.
I was welcomed to the "Woods" in January 2019 by Mr. Murry and Coach Sparks. They instantly pulled me in once cross country was spoken. I am completing my 3rd year as head cross country and track coach. We have come a VERY long way and I couldn't be prouder of the "WolfPack" we have built and created.
I am married to Coach Ron Jenkins who is also the assistant coach of cross country, varsity girls basketball and head coach of Jr high girls basketball. We have two children together. Aaiden (10) and Mila (8).
Ron Jenkins
Assistant Coach
Coach Jenkins completed his fifth year at D'Arbonne Woods. In 2019, Coach Jenkins served as the Head Coach of the Junior High Baseball Team. Coach Jenkins brings infield expertise, grit, and an incredibly positive attitude to the program.
Coach Jenkins is a native of Ruston, LA and a graduate of Ruston High School (2008). After high school, Coach Jenkins continued his baseball career at Bossier Parish Community College and Grambling State University, before he earned his degree in Social Science from Northwestern State University (2012).
Coach Jenkins is a 2nd-5th Grade Special Education teacher, and he also serves as an assistant coach for Cross Country and Junior High Basketball. He is married to Redd Jenkins, who is a physical education teacher and Track/Cross Country coach at D'Arbonne Woods. They have two children, Aaiden and Mila.
9560 Highway 33
Farmerville, LA 71241
Copyright © 2023 D'Arbonne Woods Charter School
No person shall, on the basis of race, color, religion, gender, age, marital status, disability, political or religious beliefs, national or ethnic origin, or sexual orientation be excluded from participation in, be denied the benefits of, or be subjected to discrimination under any education program or activity, or in any employment conditions or practices conducted by this School, except as provided by law.