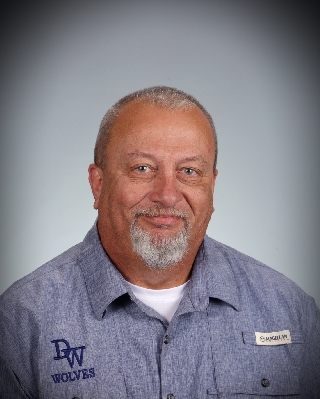 Tharp Will Lead DWCS Timberwolves Athletic Program as Athletic Director
Coach Tommy Tharp has been named Athletic Director for D'Arbonne WoodsCharter School. He will also continue to serve as Head Coach of the Timberwolves Varsity Football Program. Coach Tharp is from Louisiana and has been coaching for over 35 years. He has spent 23 years as a head coach, and 22 years as athletic director in Louisiana, Tennessee, and Alabama. During Tharp's 10 year span at Mangham High School, which began in 2009, the football team made the playoffs each season, won three District Championships, made State Semi-Final and State Championship appearances, which lead the resurgence of Mangham Football. During his tenure at Mangham, Coach Tharp spearheaded fundraising and building construction of athletic facilities, including a state of the art fieldhouse and indoor practice facilities, along with an all-weather track and many updates to the athletic facilities in general.
Coach Tharp has received some of the following honors and distinctions: State Coach of the Year, Northeast Louisiana Coach of the year, District Coach of the Year, Head Coach and Asst. Head Coach of the Tennessee East/West Shrine Game, Asst. Coach in the LHSAA East/West All-Star Game along with Asst. Coach on the Louisiana Football Coaches Association All-Star team, coached numerous Championship Powerlifting Teams, and has spoken at many clinics across the south. Coach Tharp has been published Nationwide in affiliation with Coaches Choice videos discussing various topics concerning football and athletic administration.
Tharp gives all of the credit to any successes he has had to all the coaches over the years he has had the honor to work with and learn from, but special credit to Coach Gerald Johnson, Coach Ralph Spangler, Coach Wes Elrod, Coach Ron Reece, and Coach Woody Boyles.
Coach Tharp is married to his wife Tami (the REAL coach), and they have 4 children, Madison and wife Karlea, Emma, TD, and Thomas and one grandchild, Karston. He and his family reside in West Monroe, Louisiana.
Tharp is looking forward to serving DWCS as AD. "With the partnership of our parents, community, students, and faculty, it is my goal, my promise, to have each and every program and child involved in D'Arbonne Woods athletics, to reach their maximum capability. This can, and will, be done," said Tharp.
Josh Barham Named Assistant Athletic Director
Coach Josh Barham will serve as Assistant Athletic Director at DWCS. Coach Barham has served as a coach and teacher at DWCS for 3 years. He currently serves as offensive coordinator and offensive backs coach within the DWCS Varsity Football Program. He is also head powerlifting coach for the Timberwolves. Barham also serves our students in the classroom where he teaches Algebra II and Algebra III.
Coach Barham has previously coached at Sterlington (WRs – 2011), Delhi (OC/QBs – 2012), and Delhi Charter (DL – 2013, QBs – 2014-2017, OL/OC – 2018). He guided the Delhi Charter powerlifting team to winning the 2017 State Championship. He is a 2009 graduate of ULM in Computer Science, and earned his Master's in Teaching from Louisiana Tech in 2011.
Barham looks forward to serving DWCS in his new role as Assistant AD. "I'm thankful for the opportunity to help continue to grow and improve our athletics at D'Arbonne Woods. We've made great strides in the last few years, and I look forward to continuing to raise the bar here and ensure that our sports programs proudly represent our great community," said Barham.
9560 Highway 33
Farmerville, LA 71241
Copyright © 2023 D'Arbonne Woods Charter School
No person shall, on the basis of race, color, religion, gender, age, marital status, disability, political or religious beliefs, national or ethnic origin, or sexual orientation be excluded from participation in, be denied the benefits of, or be subjected to discrimination under any education program or activity, or in any employment conditions or practices conducted by this School, except as provided by law.