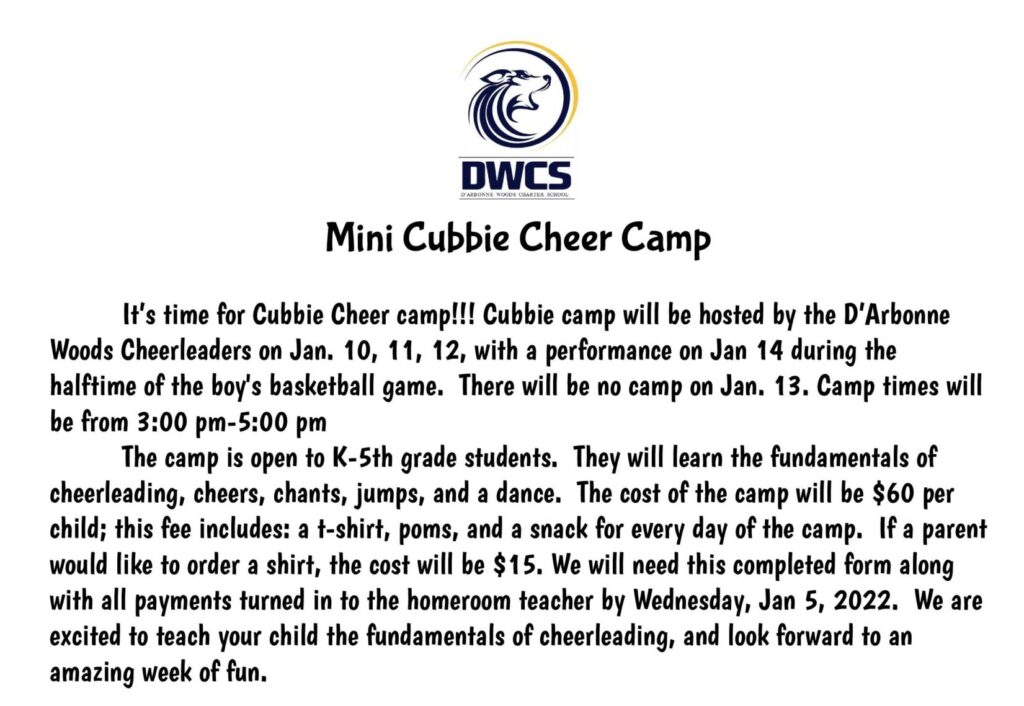 It's time for Cubbie Cheer camp!!! Cubbie camp will be hosted by the D'Arbonne Woods Cheerleaders on Jan. 10, 11, 12, with a performance on Jan 14 during the halftime of the boy's basketball game. There will be no camp on Jan. 13. Camp times will be from 3:00 pm-5:00 pm
The camp is open to K-5th grade students. They will learn the fundamentals of cheerleading, cheers, chants, jumps, and a dance. The cost of the camp will be $60 per child; this fee includes: a t-shirt, poms, and a snack for every day of the camp. If a parent would like to order a shirt, the cost will be $15. We will need the form below completed along with all payments turned in to the homeroom teacher by Wednesday, Jan 5, 2022. We are excited to teach your child the fundamentals of cheerleading, and look forward to an amazing week of fun.
9560 Highway 33
Farmerville, LA 71241
Copyright © 2023 D'Arbonne Woods Charter School
No person shall, on the basis of race, color, religion, gender, age, marital status, disability, political or religious beliefs, national or ethnic origin, or sexual orientation be excluded from participation in, be denied the benefits of, or be subjected to discrimination under any education program or activity, or in any employment conditions or practices conducted by this School, except as provided by law.